U.S. Coast Guard Cutter FIR, WLM-212
Designated a National Historic Landmark
Unaltered Cutter Represents Foundation of Modern Coast Guard Buoy Tender Fleet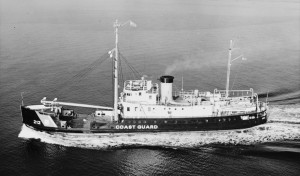 Designed a National Historic Landmark U.S.C.G. cutter FIR is the last surviving tender built under the U.S. Lighthouse Service. She was originally used to service and maintain lighthouses in the Puget Sound and along the Washington coast. The FIR remained largely unchanged, and as such "represents a largely unheralded workaday-aspect of the lighthouse service, as well as the seafaring foundation from which the modern Coast Guard's buoy tender fleet evolved."
Fir's keel was laid on January 7, 1939, and she was launched just over three months later on March 22. She was commissioned by the U.S. Coast Guard on October 1, 1940. She was decommissioned in 1991.
Check out the Free Ship Plans of U.S.C.G. Fir.