Italian Brigantine Schooner Gigino
Sailing Vessel from the Early 20th Century
Featuring detailed sail and framing plans
Free ship plans for a great ship model project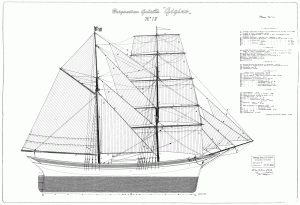 As steam began to replace sail there were a lot of last-ditch efforts to create sailing ships that could continue to compete with the new-fangled propulsion systems.
One method was to design ships that combined the ability to sail into the wind like a schooner, but also featured square sails for speed when traveling downwind. For smaller ships than the barquentine, this often resulted in what Chapman would term a "hermaphrodite brig" or a brigantine schooner, such as Gigino.
Designed at the dawn of the 20th Century, ships such as this could be manned by smaller crews and could often out perform the steamships of their day, allowing billowing canvas to compete with coal smoke on the ocean horizon for almost another generation.
Our page of free ship plans of the Italian brigantine schooner Gigino features an outboard profile, lines, and framing plans for this beauty.