Part 1 Wooden Sailing Ships
Authored by Sir George C. V. Holmes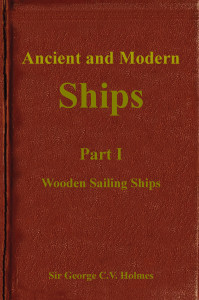 Created for the Board of Education of South Kensington Victoria and Albert Museum in 1906, and authored by George C.V.Holmes, Ancient and Modern Ships is a two volume set offering a dated, but useful reference on the history of various cultures' maritime heritage. This is Part I, which covers Wooden Sailing Ships.
The book begins with the earliest known ships in the Mediterranean and Red Seas, covering the ships of ancient Egypt, Greece and Rome.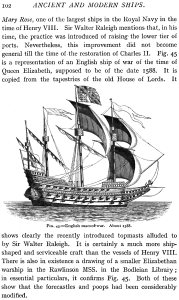 It then moves on to the ships in the seas of Northern Europe, including a nice description and lines plan of the Gokstad Viking longship. It offers a review of the rapidly changing technology of Medieval ships.  It then provides a nice review of "modern" wooden sailing ships (the book was copyrighted in 1906) that covers everything from European Man-of-War battleships to East Indiamen and clipper ships.
Because of the cultural significance of this book we have republished it in its original form, maintaining original pagination. While we have meticulously optimized each page, due to the limits of scanner technology and the deterioration of the original, there may be some spots where reproduction is less than the clarity of a newly-published book. We feel this is an acceptable compromise to present the book to readers in the format in which it was published.