Dhow Chasing in Zanzibar Waters
Five Year Memoir of Slave Suppression
by British Royal Navy Captain George Lydiard Sullivan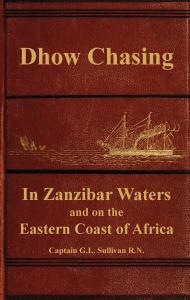 After spending five years working to suppress the slave trade off the east coast of Africa, British Royal Navy Captain George Lydiard Sullivan wrote the memoir Dhow Chasing in Zanzibar Waters which was published in 1873. The book brings together his time on the H.M.S. Castor, Pantaloon, and Daphne, and provides a detailed look into the difficulties of chasing down locally-built boats crewed by sailors who knew every bay and inlet.
This reprint of Dhow Chasing in Zanzibar Waters is a great resource for anyone researching mid-19th Century seafaring in the western Pacific and Indian Oceans, or the history of the East African slave trade.
From an anthropological viewpoint the reader will note that the author – like many of his time – although tasked with suppressing the slave trade, had little more regard for black Africans than those who would sell them as property.
The sad realization is that the author's coarse, racist language is not all that different from what can be heard – or, more accurately, read – today on many politically-related websites.
Because of the cultural significance of Dhow Chasing in Zanzibar Waters we have republished it in its original form, maintaining original pagination. While we have meticulously optimized each page, due to the limits of scanner technology and the deterioration of the original, there may be some spots where reproduction is less than the clarity of a newly-published book. We feel this is an acceptable compromise to present the book to readers in the format in which it was published.
Order it now from our estore here: Dhow Chasing in Zanzibar Waters