Ship Model Kits Come in Three Main Types
Ship Model Kits Offer an Easy Way to Get Started in the Hobby
For the beginning ship modeler, scratch-building a ship model from a plan can be a daunting challenge. A better option for a first project in most cases is to pick from the vast array of ship model kits available today.
There are a number of international, and a few U.S. ship model kit manufacturers, and they are constantly coming out with new offerings that set a ship modeler's mind racing with possibilities. But, while model ship kit manufacturers are constantly introducing new kits, and adding more detailed models to their lineup, all model ship kits fall into three basic categories, based on hull construction technique: Solid hull; Plank-on-bulkhead; and Plank-on-frame.
Solid Hull Ship Model Kits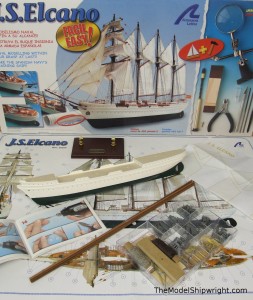 There are a number of variations within the category of what is considered "solid hull ship models," but while these construction methods differ substantially, they all share the fact the shape of the hull is not created by the modeler applying planks over an open framework of bulkheads or frames. Some solid hull ship model kits even require planking to be affixed over the hull, but the hull is still a solid form beneath the planking. Solid hull ship model kits are generally considered to be the easiest to construct.
Plastic "Solid" Hull Ship Models
The most simple kits to construct in the solid hull ship model category are plastic models. While plastic ship model hulls are technically hollow, they would qualify as "solid hull" models, as in the definition above, the shape of the hull is not created by the modeler applying planks over an open framework of bulkheads or frames.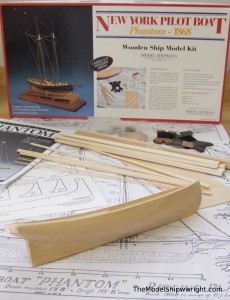 While this blog is mainly concerned with wood ship models, there are many plastic kits by manufacturers such as Airfix, Heller, Revell, and Trumpeter that can be used as the starting point to creating a beautiful, high-quality ship model, although producing such a final product from most of these kits would require the modeler to replace some of the rigging detail with materials purchased separately. However, at the high end of this range of plastic ship model kits, traditional wooden model ship kit manufacturers such as Artesania Latina (see figure 1) and Constructo offer kits that include all the intricate rigging of a wood ship model with a preformed – often even pre-painted – hull. As a great many "first" ship models never reach the point of rigging and end up in a box on a closet shelf due to difficulties in hull construction, as a first project, I cannot recommend this type of kit highly enough.
Wood Solid Hull Ship Models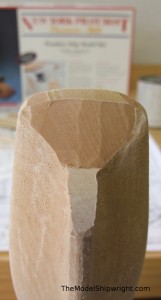 Most international and U.S. wood ship model kit manufacturers have an entry-level line of solid wood hull kits. In the U.S., Model Shipways (see figure 2a) and Bluejacket have a nice lines of solid hull kits. But don't let the "entry level" designation fool you: Due to the limitations of machine carving, all of them still require some shaping of the hull (see figure 2b), with various woodworking tools such as chisels, knives, and sandpaper. The kit will include a set of templates (see figure 2c) that the modeler uses in this shaping process to ensure the final shape of the hull matches the lines of the prototype.
Also, don't let the "entry level" designation lead you to believe these kits produce inferior ship models. With the proper attention to detail, many entry level kits can produce stunning ship models.
The main differences between the kits of various manufacturers, and even with a single manufacturer's lineup, is how much attention to detail – or added materials – it requires for the best results. As with most things in life, kit quality is usually a factor of kit price. While not always true, generally the higher the price of the kit, the more detail items it will contain, and the fewer the modeler will have to manufacture or source him/herself. Higher price kits also often offer a ship model at a larger scale, creating a larger model that is easier to detail.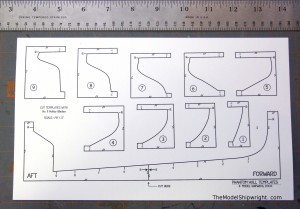 Many modelers believe that international ship model kits in general offer greater detail than U.S. kits. But if so, that greater detail almost always is reflected in the kit price. Artesania Latina kits (see figure 1), for instance, always contain a fantastic array of cast metal, wire, and wood details, but they almost always cost more than the comparable U.S. kit. On the other hand, international kits have a reputation for having more difficult to understand or limited instructions as compared to U.S. kits. U.S. kit maker Model Shipways (see figure 2d) has a reputation for providing highly-detailed plans and instructions with its kits, as well as offering downloadable "practicums" on its website detailing the construction of its kits.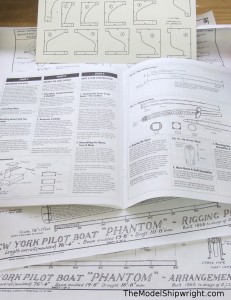 U.S. solid hull ship model kit manufacturers: Bluejacket Ship Crafters; Model Shipways.
International solid hull ship model kit manufacturers: Amati; Artesania Latina; Billing Boats; Constructo; Mamoli.
Plank-on-Bulkhead Ship Model Kits
Normally considered a step up from solid hull ship models in both difficulty and detail, plank-on-bulkhead kits create the shape of the hull with a keel and a series of bulkheads, each of which is a silhouette of the hull shape at a specific cross section of the hull (see figure 5a). When assembled, the keel and bulkheads create a ladder-like framework (see figure 5b) that is then covered with individual planks to create the hull.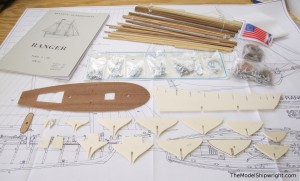 The main difference between plank-on-bulkhead kits is whether the parts are die-cut or laser-cut. Die cutting, once the only way to get pre-cut parts, uses a metal die with sharp edges to punch the shape of the individual kit pieces into a sheet of wood. The problem with this method is the dies become dull quickly, and if not resharpened, resulted in what modelers used to refer as "die-crushed" kits. The more modern method is to use a laser to cut the shape of pieces either completely or nearly completely from a sheet of wood. In the latter case, the sheet is provided with all the parts still attached, and the modeler must cut the small uncut portions that connect each piece to the master sheet.
The plank-on-bulkhead hull will require more or fewer bulkheads, depending on how drastically the hull changes shape. The Corel model of a U.S. revenue cutter in figures 5a & 5b has a fairly complex hull shape with 11 bulkheads, where the Midwest Model Products Chesapeake Bay Flattie kit with its simply curved hull in figures 6a & 6b only has four bulkheads.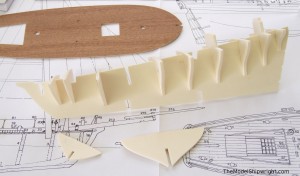 Speaking of Midwest's Chesapeake Bay Flattie, previously I noted that wood solid hull model kits were "generally considered" easier to build than plank-on-bulkhead kits, this kit may be the exception to the rule. Because of the Flattie's simple hull shape, the kit only has one plank on each side of the hull, and two on the bottom. This simple hull construction is why we chose this kit for our first on-line kit building article.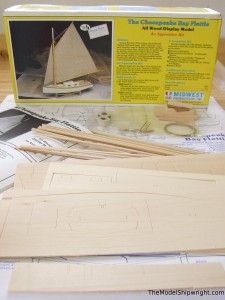 In general though, more complex hull shapes require a greater number of planks to fashion. And, the each plank must often be "spiled," or shaped to fit, rather than being a consistent width from bow to stern. This is a tricky procedure to master (we will discuss it in depth in a later article), but once you understand the concept, it's a fairly easy – albeit time-consuming – process to complete.
Plank-on-bulkhead ship model kits share the same differences and similarities as discussed above with solid hull kits. Generally, higher priced kits offer more detail and a model built larger scale, providing a larger finished product. You will also notice the international kit manufacturers often include more exotic wood species for planking (some even double layers of planking) and creation of details.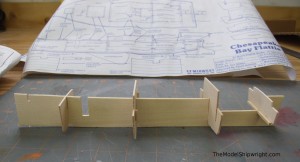 U.S. plank-on-bulkhead ship model kit manufacturers: Bluejacket Ship Crafters; Dumas Products; Midwest Model Products; Model Shipways.
International plank-on-bulkhead ship model kit manufacturers: Amati; Artesania Latina; Billing Boats; Caldercraft; Constructo; Corel; EuroModel; Mamoli; Mantua; Occre; Victory Models.
Plank-on-Frame Ship Model Kits
Plank-on-frame construction ship model kits offer the most protypically accurate construction method of any kits. Actual wooden ships were constructed of closely-spaced (often only inches of space between) frames on a keel, that were covered with planking. Because all of this detail is hidden under the planking, this method of construction is usually only used on "admiralty" models where some planking is left off the hull so viewers can see the frames.
Plank-on-frame ship models are the "holy grail" of ship modeling, but because the the greatly increased engineering and materials cost to produce such a kit (and the limited number of purchasers who will buy it), there is less of a variety available on the market. U.S. kit manufacturer Model Shipways has developed an interesting approach to this field by offering plank-on-frame kits of small boats that are reasonably priced and don't require a vast amount of time to complete. If you want to try building a plank-on-frame ship model, we highly suggest trying one of these kits first to "get your feet wet."
U.S. plank-on-frame ship model kit manufacturers: Bluejacket Ship Crafters; Model Shipways.
International plank-on-frame ship model kit manufacturers: Amati; Artesania Latina; Construto; Corel; Dusek; Mamoli; Occre.