Salvage Vessel U.S.S. Bolster
The Last Remaining World War II Era Auxiliary Ship of Her Class
Ocean-going Tug Served 49 years in the U.S. Navy
U.S.S. Bolster (ARS-38), now part of the Suisun Bay Reserve Fleet located in Solano County, California, is the last surviving member of her World War II era auxiliary ship class.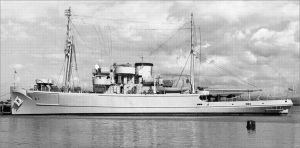 Created as a salvage-rescue ship, her as-built dimensions are: overall length is 213 feet, six inches with a waterline length of 207 feet. Her beam is 43 feet and her draft 13 feet, nine inches with a displacement of 1,897 long tons. Her diesel-electric twin-screw power plant produced a maximum continuous shaft horsepower of 3,000 allowing a service speed of 16 knots. Note that draft, displacement, and other measurements, as well as tonnages were subject to alteration over time.
Built by Basalt Rock Company, Napa, California, U.S.S. Bolster's keel was laid on 20 July 1944. She was launched 23 December 1944 and commissioned 1 May 1945. Presently owned by the U.S. Maritime Administration, U.S.S. Bolster is a member of the inactive National Defense Reserve Fleet.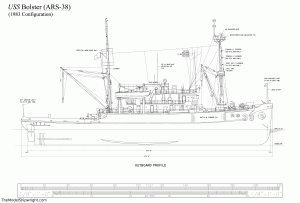 U.S.S. Bolster was the first ship in a class of six salvage vessels built for the U.S. Navy during World War II. She performed numerous salvage operations during her career.
The experience of World War I taught the U.S. that one of its first priorities upon entering World War II was building ships. Total war would involve more people, and require more equipment than there were ships to transport.(1) During World War II, the U.S. Maritime Commission was the pivotal force in the development and construction of ships that the U.S. Shipping Board had been in World War I. Succeeding the Shipping Board, the Maritime Commission was created in 1936 to follow the same general directive of promoting U.S. shipping interests. As the Shipping Board had created its Emergency Fleet Corporation during World War I, after the United States entered World War II, the Maritime Commission established the Emergency Program to meet the expanded need for ships during wartime.(2)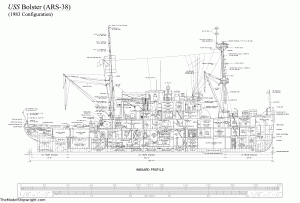 At the outbreak of World War II, a majority of the ships in the U.S. Merchant Marine were still from the building surge authorized by the U.S. Shipping Board in World War I. Even though U.S. participation in the war was brief, the board approved the construction of 470 ships to support the U.S. effort. Realizing the need for more ships even after the war, between1918 and 1922, the Shipping Board added 1,300 more ships to the Merchant Marine, raising the United States' presence in international shipping to a higher level than it had had in 70 years.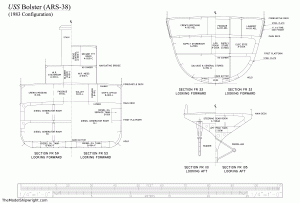 However, the U.S. stock market crash in 1929 and the following Great Depression set back this higher profile in the industry. Lower shipping tonnages meant steamship companies were unable to replace or update aging ships. By the mid 1930s over 90 percent of the fleet was more than twenty years old with an average speed of between 10 and 11 knots.(3)
The U.S. government, through President Franklin D. Roosevelt's New Deal economic policies, brought some relief to the the Merchant Marine with the Merchant Marine Act, passed by Congress in 1936. The act replaced the U.S. Shipping Board with the newly-created U.S. Maritime Commission, and brought new capital and ideas for renewing the merchant fleet. The next year the U.S. Maritime Commission developed a program to build 500 contemporary and economical ships over ten years. Two years later, with mounting concerns about the war in Europe, the Maritime Commission decided building 50 ships per year was not enough and doubled the quota.(4)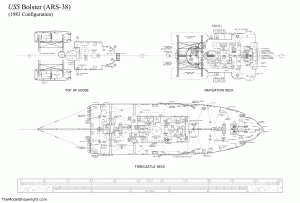 The successful German U-boat campaign against English shipping, and United States' fears that U.S. steamship companies' trade with England and France might lead Germany to next turn its attention to U.S. ships or U.S. trade routes, led the Maritime Commission to raise its shipping quota in August 1940 to 200 ships per year.(5)
The U.S. Congress October 1941 established the Naval Salvage Service. Just months later – days after the attack on Pearl Harbor – that legislation allowed the navy to sign a contract with Merritt-Chapman and Scott to begin salvage operations and to train future naval salvage operators.(6)
A salvage crew augmented damage control beyond the capacity of the ship's crew, including fire fighting, towing ships to repair facilities, and clearing harbors of scuttled ships and vessels targeted in combat. It quickly became obvious to the navy that it was faster to repair a damaged vessel than to construct a new one. During the campaigns of the Pacific Theater, salvage crews repaired many of the damaged landing craft they cleared from the beaches of one island for use in landing on the next.(7)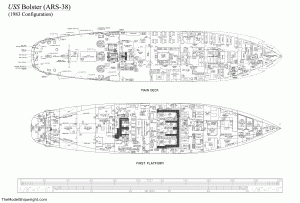 The U.S. Navy Bureau of Construction, along with naval officers and salvage industry experts designed the Bolster class of salvage ships. These oceangoing tugs were equipped with diesel-electric propulsion units auto-tensioned towing winches. Based on the Diver salvage-ship design, the key difference was that the Bolster class's five feet of additional beam, increasing its stability and equipment payload.(8)
The Basalt Rock Company's Steel Division, located near Napa, California, built all six of the vessels in the Bolster class. The company began as a rock quarry, but by 1938, had begun constructing its own barges. In addition to the Bolster class, From 1940 to 1945 the shipyard also built 16 Diver class vessels, 115 barges, and various other vessels for the U.S. Navy.(9)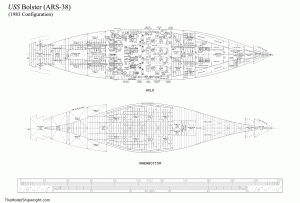 At 95 percent capacity, U.S.S. Bolster's fuel tanks held 2,150 barrels of diesel fuel for the main engines and auxiliary generators. With her twin-screw diesel-electric power plant producing a flank speed of 16 knots, she had a cruising distance of 10,000 nautical miles. At cruising speed, this radius expanded to 13,700 nautical miles. She also had tanks that could carry a total of 2,560 barrels of gasoline for use in portable generators and pumps and for the two small boats carried onboard. (10)
The ship carried an assortment of equipment dedicated both to operating the ship and to the salvage operations. For propulsion, the engine room on the first platform contained four 8-cylinder Cooper-Bessemer diesel engines. The engines spun four Westinghouse generators that produced 610 kilowatts to create a 500-volt DC current, powering four Westinghouse motors rated at 765 horsepower that drove two shafts at 200 rpm. A single Farrel-Birmingham reduction gear stepped the power down on each shaft to turn a 9-foot-3-inch four-bladed propeller. The aft steering compartment housed two quadrant steering gears that turned the rudders. In the early 1970s, the Bolster's diesels were replaced with four new 399 Caterpillar diesel engines. The 16-cylinder engines increased the shaft horsepower from 3,000 to 3,500. (11)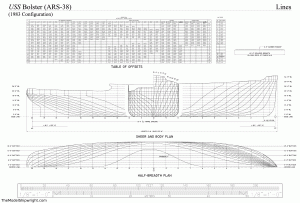 Original auxiliary power equipment for the ship was two service generators and one emergency generator. The two primary 6-cylinder Cooper-Bessemer diesel generators, in the hold between the main and reduction gears, produced 200 kilowatts creating 120 volts of AC power apiece. The emergency generator, on the first platform, only generated 60 kilowatts.(12)
The forecastle deck had one mast with an eight-ton boom and various salvage gear. The anchor windlass located near the bow lifted the two 7,000-pound Bower-Dunn anchors. Behind the anchor windlass was a 20-ton windlass for the foremast boom that could also be used for picking up salvage through two forward lifting rollers built into the hull on the port and starboard sides. Ahead of the stern was a mast and an Alton-Johnson towing winch with 2,100 feet of two-inch steel cable, and a maximum pull rating of 40,000 pounds. Two capstans were mounted aft of the bulkhead on the port and starboard sides. A towing bit was located between the capstans and a 900-foot long, five and one-half inch thick nylon towing hawser was located in a hold beneath the deck.(13)
The ship's assortment of compressors and pumps included four compressors located on the first platform. These two Davy Industrial 100-psi compressors and two Worthington 600-psi compressors provided air to the divers and to the hyperbaric chamber used to treat divers suffering from the "bends" (decompression sickness). Four large pumps in the hold level could be used to pump the bilge, pump water to the fire-fighting monitors, pump air into salvage vessels, or pump water out of laden ships.(14)
A small DC electric shop complete with a welder was located on the main deck, while a larger machine-and-electrical shop that could replicate parts and conduct repairs was on the second deck. Onboard equipment allowed crew members to patch vessels being salvaged on an interim basis, but once the ship being salvaged was stabilized, it was typically towed or traveled under its own power to a shipyard for larger and more complex permanent repairs.(15)
The U.S.S Bolster accommodated a crew of the 120 men – seven officers and 113 enlisted personnel – in executive officers and captain's living quarters on the forecastle deck, an officer's wardroom was on the forecastle deck beneath the navigation bridge, and enlisted personnel berths on the main deck and the first platform. Sick bay was located on the main deck. The chief petty officer's mess was on the main deck forward of the galley; the mess for the enlisted crew was on the port side of the galley. Food storage spaces were on the first platform, fore of the berths.(16)
Equipment on the navigation bridge was updated throughout the service life of the vessel. The bridge featured a compass, engine-order telegraph, gyro repeater, and helm. The chart room was located behind the bridge on the starboard side; the radar room and fathometer was on the port side. Communications rooms were in the aft section of the bridge deck. The gyro room was beneath the navigation bridge on the first platform.(17)
During World War II, the Bolster's defensive armament was a 40-millimeter anti-aircraft gun that could also be used against small surface craft. After the war, ship's armament was changed to two 20-millimeter guns and two 50-caliber machine guns. Eventually, the Bolster only carried the 50-caliber guns. She carried two 35′ craft in cradles and seven rubber lifeboats off the navigation bridge.(18)
U.S.S. Bolster was christened on 23 December 1944 by Mrs. A.C. Mayo, Jr. After being commissioned on 1 May 1945, the U.S.S. Bolster was placed under the command of Lt. W.F. Lewis. In July she set sail for Pearl Harbor, Hawaii. On 15 August, 1945, while Bolster was stationed in Pearl Harbor, Japan surrendered, and the war in the Pacific ended. The same day Bolster left Pearl Harbor and headed for Yokosuka, Japan, to conduct salvage operations. On 10 October 1946 she embarked to Subic Bay, Philippines, for six months of salvage work.(19)
After returning to the United States in April 1947, The Bolster three years performing salvage and towing duties from Adak, Alaska to Pearl Harbor, Hawaii. In August 1950, the Bolster was tasked with towing two barges to Sasebo, Japan. She remained in the Central Pacific during the Korean War, where she took part in the Inchon Landing on 15 September 1950 and the Hungnam Evacuation from December 9 to 25 December 1950. She returned to Pearl Harbor in July 1951 and spent the following year traveling to the Far East, performing salvage duties in Hong Kong, Japan, Korea, Okinawa, and the Philippines.(20)
After the Korean War, U.S.S. Bolster continued salvage duties from her Pearl Harbor base. In May 1955, she took part in Operation Wigwam, a nuclear test conducted 500 miles southwest of San Diego, California. In 1964 she came to the rescue of the grounded Philippine ship Ajah Soliman, and recovered the destroyer Frank Knox (DD-742), towing it back to port for repairs.(21)
U.S.S. Bolster was stationed in Da Nang Vietnam during the Vietnam War. In 1965, the Bolster rescued the Sea Raven; In 1966 she salvaged the Excellency. In 1973 she participated in the recovery of Skylab 4. In 1975 she saved the merchant vessel Lindenbery. In 1977, the ship came to the aid of the USNS Ute off the coast of China. In 1978 Bolster towed the guided-missile destroyer USS Preble (DDG-46) to Pearl Harbor for repairs.
In 1982 Bolster retrieved a Marine Corps F-4S jet that had crashed near Subic Bay, Philippines. In 1983, Bolster moved to Long Beach, California, which remained her home port until she was decommissioned in 1994.(22)
In February 1999, the U.S. Maritime Administration acquired Bolster and put her in the Suisun Bay mothball fleet.
APPENDIX A: Bolster Class, List of Ships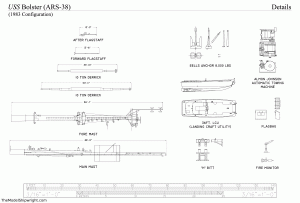 Bolster (ARS-38) Decommissioned 24 September 1994, National Defense Reserve
Fleet, Suisun Bay, California
Conserver (ARS-39) Decommissioned 1 April 1994, disposed of through U.S. Navy
ship sinking exercises (SINKEX)
Hoist (ARS-40) Decommissioned 30 September 1994, scrapped 1 December 2007
Opportune (ARS-41) Decommissioned 30 April 1993, scrapped 5 December 2003
Reclaimer (ARS-42) Decommissioned 16 September 1994, SINKEX
Recovery (ARS-43) Decommissioned 30 September 1994, transferred to Taiwan
Retriever (ARS-44) Canceled
Skillful (ARS-45) Canceled
Support (ARS-46) Canceled
Toiler (ARS-47) Canceled
Urgent (ARS-48) Canceled
Willing (ARS-49) Canceled
Please Support The Model Shipwright
TheModelShipwright.com is entirely user supported. If you find something of value here, please "pay it forward" and help us keep the site operating by a secure donation through PayPal ( PayPal account is not required).
Thank you for your support!
U.S.S. Bolster Footnotes
1 Russell F. Weigley, The American Way of War: A History of United States Military Strategy and Policy (New York, NY: MacMillan Publishing Co., Inc., 1973), pp. xxi-xxiii.
2 René De La Pedraja, A Historical Dictionary of the U.S. Merchant Marine and Shipping Industry since the Introduction of Steam (Westport, CT: Greenwood Press, 1994), pp. 563-566, 629-631. During World War II, the Maritime Commission issued contracts for 5,601 vessels. Private firms built an additional 111 ships while foreign firms built sixty-five for a total of 5,777.
3 Brian J. Cudahy, Box Boats: How Container Ships Changed the World (New York: Fordham University Press, 2006), pp. 2-3; L.A. Sawyer and W.H. Mitchell, Victory Ships and Tankers: The History of the 'Victory' Type Cargo Ships and of the Tankers Built in the United States of America during World War II (Cambridge, MD: Cornell Maritime Press, Inc., 1974), p. 15.
4 Cudahy, Box Boats, p. 3; Sawyer and Mitchell, Victory Ships and Tankers, p. 15.
5 Sawyer and Mitchell, Victory Ships and Tankers, p. 16; Thomas Wildenberg, "The Origins and Development of the T2 Tanker," American Neptune (Summer 1992), pp. 158-159.
6 C.A. Bartholomew, Mud, Muscle, and Miracles: Marine Salvage in the United States Navy (Washington, DC: Department of the Navy, 1990), pp. 55, 69.
7 Bartholomew, Mud, Muscles, and Miracles, pp. 51-52.
8 Bartholomew, Mud, Muscles, and Miracles, pp. 54, 444.
9 "Basalt Rock Company, Napa, CA," available at http://shipbuildinghistory.com/history/shipyards/4emergencysmall/basalt.htm, accessed 17 August 2009.
10 U.S. Navy, Ships' Data: U.S. Naval Vessels, Vol. III (Washington, DC: Government Printing Office, 1946), pp. 350-353.
11 U.S. Navy, Ships' Data, pp. 352-353; "Bolster ARS-38 Naval Cruise Book, Class of 1980," available at http://www.e-yearbook.com/sp/eybb?school=5082&year=1980, accessed 23 July 2009.
12 U.S. Navy, Ships' Data, p. 353; Booklet of General Plans USS Bolster (ARS-38), Plates 3, 9, in Record Group 19, National Archives and Records Administration-College Park.
13 Booklet of General Plans, Plates 3, 6.
14 Booklet of General Plans, Plate 9.
15 Booklet of General Plans, Plate 7.
16 Booklet of General Plans, Plates 6, 7.
17 Booklet of General Plans, Plates 4-5.
18 Booklet of General Plans, Plate 5; "Bolster ARS-38 Naval Cruise Book, Class of 1994," available at http://www.e-yearbook.com/sp/eybb?school=5082&year=1994, accessed 23 July 2009.
19 U.S Navy, Dictionary of American Naval Fighting Ships, Vol. II (Washington, DC: Naval Historical Center, 1991), pp. 138-39.
20 U.S. Navy, Dictionary, p. 139.
21 "Bolster ARS-38 Naval Cruise Book, Class of 1994," p. 7.
22 "Bolster ARS-38 Naval Cruise Book, Class of 1994," p. 7.
This article is edited from a report written by historian Bryan Clayton for the Historic American Engineering Record (HAER), a long-range program to document historically significant engineering and industrial works in the United States. The Heritage Documentation Programs of the National Park Service, U.S. Department of the Interior, administers the HAER program.
The project was prepared under the direction of Todd Croteau (HAER Maritime Program Coordinator). Ashley T. Walker (HAER Contract Architect) generated vessel drawings. Erhard Koehler (U.S. Maritime Administration) assisted this project.