We owe much to French Admiral François-Edmond Pâris. His work recording the lines of ships both historical and contemporary (19th Century was contemporary for him) has left us with a volume of ships plans that is invaluable to the model shipwright.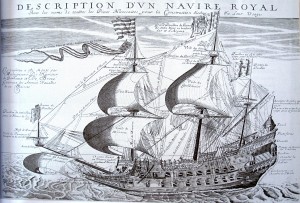 Ships plans for La Couronne, a 17th Century French first rate warship come from Pâris's Souvenirs de Marine Conservés, ou Collection de plans de navires de guerre et de commerce et de bateaux divers de tous les pays tracés par les constructeurs ou marins … recueillis et publiés par l'amiral Pâris.
La Couronne (French for "The Crown") was commissioned into the French Navy in 1636. She was a war galleon built by the French as part of the effort by Cardinal-duc de Richelieu et de Fronsac, King Louis XIII's chief minister, to ensure the French Navy was dominant on the seas.
Scrapped between 1643-1645, La Couronne's lines were recorded in Hydrographie by military chaplain Georges Fournier in 1667, the source which Pâris uses for his reproduction.