Le Gladiateur Ship Plans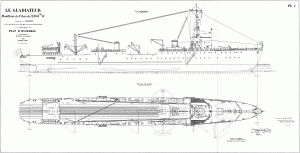 Just posted: free ship plans of the French Navy Mine Warfare Ship Le Gladiateur (The Gladiator).
A net-laying ship, Le Gladiateur was built at Arsenal de Lorient. Keel laid 1932, she was launched 10/04/1933. She was scuttled at Toulon 11/27/1942 by her own crew to avoid capture. Ship was salvaged by Italians 03/30/1943 but later captured by Germans and commissioned them in January 1944 as SG18. She was bombed and sunk by Allied aircraft 4/2/1944.