Due to the popularity of our plans pages for the Ancient Trireme and the Gokstad Viking Longship, we've added two new ancient ship plans to our Oar-Powered Vessels page.
Both of these plans come from  Atlas du Génie Maritime, a treasure-trove of ship plans in the archives of the French Le Ministère de la Défense.

First is the plan of an Ancient Galley. This ship would have plied the waters of the Mediterranean during the Classic period of history under the command of a captain who may have held allegiance to any of the major sea powers of the era, from the Greeks and Romans all the way up to the Medieval period and beyond. Galleys were in use well into modern history, due to their ability to maneuver in shallow or becalmed waters.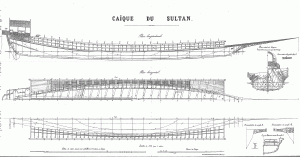 Or next addition is a Sultan's Caique, which would have been used to transport Turkish leaders during the late Ottoman Empire. These vessels were opulent in their luxury, befitting the rulers of the largest superpower in the Medieval world.
Either of these plans would provide the basis for a beautiful ship model for the scratch-building model shipwright that was well outside the possibilities available through model ship kits.