New TheModelShipwright.com Page Features Books We've Published
First Two Offerings Include Works of Charles G. Davis and François-Edmond Pâris
Sure to Please the Model Ship Builder or the Maritime History Enthusiast
We've added a new Books page to TheModelShipwright.com that features the books we've published that are of interest to both model ship builders and maritime history enthusiasts.
Our latest publication is a reprint of the 1918 Charles G. Davis gem The Building of a Wooden Ship.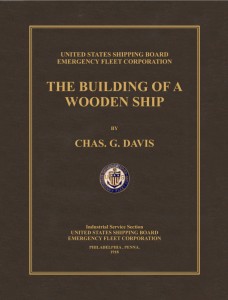 When the United States entered World War I the United States Shipping Board Emergency Fleet Corporation ramped up construction of cargo ships for the war effort. Even though steel was the modern material from which to construct ships, the EFC decided to use the many shipyards still building ships of wood to quickly meet the need for more ships. To train new employees in how to build wooden ships, naval architect Charles Davis wrote The Building of a Wooden Ship.
Instead of the poor quality copies of this book available from most publishers, ours was carefully scanned from an original copy at a resolution intended for print reproduction. The fold-out plan pages (not present in other available reprints) have been moved to the back of the book and scanned as multiple separate single-sided pages so they can be removed and reassembled if the reader should so choose.
Our other current offering is Selected Plates from Souvenirs de Marine.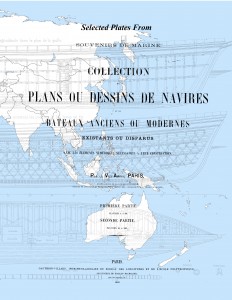 TheModelShipwright.com's Selected Plates from Souvenirs de Marine features more than 90 plates from the 1882 François-Edmond Pâris work "Souvenirs de marine. Collection de plans ou dessins de navires et de bateaux anciens ou modernes existants ou disparus avec les éléments numériques nécessaores à leur construction."
The plates include more than 130 ship plans for warships, merchant & fishing vessels and small craft from all over the world, with a heavy emphasis on Europe and Asia.
Selected Plates from Souvenirs de Marine is indexed several ways so that readers can find vessels by plate number, type of illustrated vessel, name of vessel, and country/region of the vessel.
The book also includes an appendix valuable to the novice explaining how to "read" a ship plan, as well as a biography of Pâris and a bibliography of his work.
Both books are also available on Kindle:
The Building of a Wooden Ship Kindle Version
Selected Plates from Souvenirs de Marine Kindle Version