BLANCHARD JUNIOR KNOCKABOUT, HULL NO. 7
A Small Boat Perfect for a Highly-detailed Ship Model
REPLICATE A CLASSIC SMALL BOAT IN A LARGE SCALE MODEL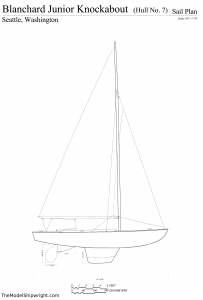 Blanchard Junior Knockabout, Hull No. 7 is an example of the popular "day-sailer" sailboat, which was developed to adapt to the economic realities of the Great Depression and to cater to the working class.
The small size of this boat means that the ship model builder can create a model to a large scale that allows intricate detail not possible with larger ship models. A model at 1" = 12" (1:12) would result in a model that would still fit on a desktop, but would hold a fantastic level of detail.
The scratch-builder could even recreate the original steam-bent frame construction method of the original boat with our page of FREE SHIP PLANS.