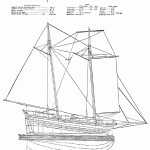 On our page Creating a Solid Hull Ship Model we have full size patterns for a 1/72 scale model of the 51 Ton revenue cutter illustrated in Howard I. Chapelle's The History of American Sailing Ships.
We offer illustrated step-by-step instructions for using the patterns to cut the rough hull from a single block of basswood.
Finished model will be about 16 inches in length, and is a great starter project for scratch-built ship modeling.