Third Part of Famous Series by François-Edmond Pâris Available
Souvenirs de Marine Troisième Partie
Invaluable to Maritime History Buffs, Model Shipwrights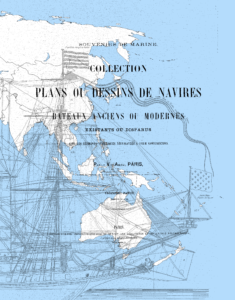 "Souvenirs de Marine. Collection de Plans ou Dessins de Navires et de Bateaux Anciens ou Modernes Existants ou Disparus avec les éléments numériques nécessaores à leur construction Troisième partie" (A Record of Navy: Collection of plans or drawings of vessels and of boats ancient or modern, existing or disappeared, with the numerical elements necessary for their construction – Third Part) featuring plates 121 to 180, takes up where our book "Selected Plates from Souvenirs de Marine" ends. However, where that book contains just the ship plan drawings from Souvenirs de Marine Premiere and Seconde Partie (first and second parts), This volume was created from a copy of the book that was complete with text and photos.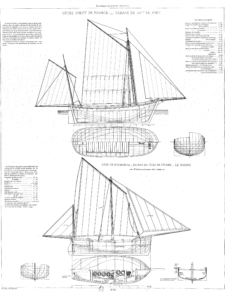 The text is in the original French, and the the photo reproduction – due in part to the primitive reproduction technique of the original and its deterioration over the years – is sometimes less than optimal, but we've definitely improved the reproduction of the ship plan plates compared to our previous book (we plan to go back with what we've learned to improve that volume).
Troisième partie contains many ship plans from the reign of King Louis XIV as well as the famous La Couronne, Le Royal Louis, several Arab dhows, and a number of interesting Turkish ships.
Because of the cultural significance of this book we have republished it in its original form, maintaining original pagination. While we have meticulously optimized each page, due to the limits of scanner technology and the deterioration of the original, there may be some spots where reproduction is less than the clarity of a newly-published book. We feel this is an acceptable compromise to present the book to readers in the format in which it was published.
Souvenirs de Marine. Collection de Plans ou Dessins de Navires et de Bateaux Anciens ou Modernes Existants ou Disparus avec les éléments numériques nécessaores à leur construction Troisième partie is available at our estore for $6.99