TheModelShipwright.com offers reprint of historic shipbuilding book
Written by noted naval draftsman and model shipbuilder Charles G. Davis
The Building of a Wooden Ship
captures a moment in history at the end of the era of wooden ships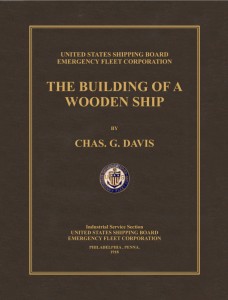 Noted naval draftsman Charles G. Davis (July 22, 1870-January 22, 1959) has had a strong influence on modern model shipwrights. Experienced both as a sailor and as a designer of boats, his books on prototype and model ships are essential additions to the library of anyone planning to build ship models. Reprints of books by Davis such as The Ship Model Builder's Apprentice, Ship Models: How to Build Them, and The Built-up Ship Model are still steady sellers even as they near their centenary.
However, Davis' book The Building of a Wooden Ship, created for the United States Shipping Board Emergency Fleet Corporation, is much more scarce. When the U.S. joined the fray in World War I, it was at a time that merchant shipbuilding was undergoing the transformation from wood construction to steel. However, to quickly ramp up the production of cargo vessels needed for the war effort, the U.S.S.B. decided to utilize the many local shipyards still building ships of wood. By creating standard designs, and having parts mass-produced, the U.S.S.B. could decrease the time from laying of a ship's keel to launch … if they could find enough skilled men to build them.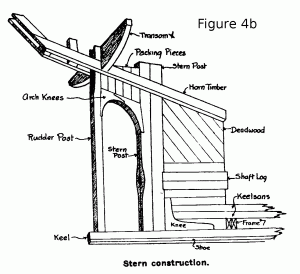 With the help of Davis' book, the U.S.S.B Emergency Fleet Corporation could recruit men already familiar with wood construction, be it furniture building, or rough or finish carpentry, and teach them how to apply those skills to the construction of ships.
The book, much like the ships built by students of it1, was not meant as a lasting literary work. It was paper-bound and printed cheaply, so there are few physical copies left. To make matters worse, those that have been digitized up until now did not have the fold-out plans opened before scanning, so those pages are useless in those copies.
TheModelShipwright.com, however, found a copy that was is reasonable shape, and disassembled it to scan it. Each page is rendered in its entirety, and each panel of the fold-out plans have been scanned as a separate page, and included at the back of the book on single-sided pages so the reader can remove them and re-assemble them.
This edition of The Building of a Wooden Ship is 8.5 x 11 inches (oversized from the original so that all original page detail is preserved) and 159 pages. The black-and-white interior includes many line illustrations as well as numerous photos of various stages of construction the wooden ships built by the U.S.S.B Emergency Fleet Corporation from the plans contained in the book. To give it a touch of class, we created a beautiful cover using scans of a leather-bound book, adding a full-color emblem of the United States Shipping Board. The Building of a Wooden Ship is available on our eStore for $9.99.
1. The fate of the Ferris-class and other wooden ships built by the U.S.S.B Emergency Fleet Corporation is somewhat ignominious. The ships were slow, and leaked like sieves, according to many contemporary accounts. The idea that the ships that survived the German U-boat packs could be sold into commercial service at the end of the war did not succeed due to this reputation, and there was a voluminous supply of parts left over from ships not yet constructed at the hostilities. Many of the ships were simply burned in place wherever they were mothballed, and their hulks can still be found in such places as "The Ghost Fleet of Mallows Bay."