Follow along as we build Midwest Model Products'
Apprentice Level 1 Model Ship Kit
The Chesapeake Bay Flattie!
Because of their shallow draft, flat-bottomed work boats called "flatties," were popular around the turn of the century along the Chesapeake Bay from Virginia to North Carolina.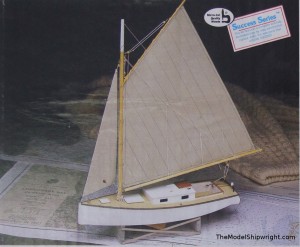 These boats could carry cargo such as fresh produce down shallow creeks, and easily sail over the shallow sandbars common in the bay, so they could be used to transport oysters from the dredgers to market. A retractable centerboard made them more stable when sailing in deeper waters under stronger winds.
Flatties were often built without plans, just from a set of proportions each builder kept in his head. They usually ranged from about 20 to 30 feet, and the Midwest kit is a representation of a 28-footer, not a specific boat from history.
The simple lines of these boats that made them ideal for locals to build from locally-available lumber also make this an ideal ship model kit or a person with no prior wood ship model building experience. The kit comes with die-cut and pre-cut parts, as well as fittings, rigging line, sail material, and a well-done set of instructions and building plans.
Click on the links below to visit each stage of construction: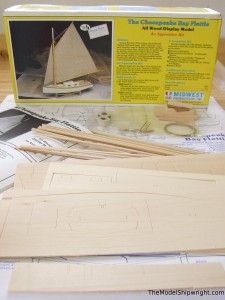 Chapter 1: Assembling the Keel and Bulkheads
Chapter 2: The Deck
Chapter 3: The Mast Step and Bow Stiffeners
Chapter 4: Keel and Chine Strips
Chapter 5: Installing the Cabin
Chapter 6: Planking the Hull