Essential tools for Model Ship Building
Start small, and build your collection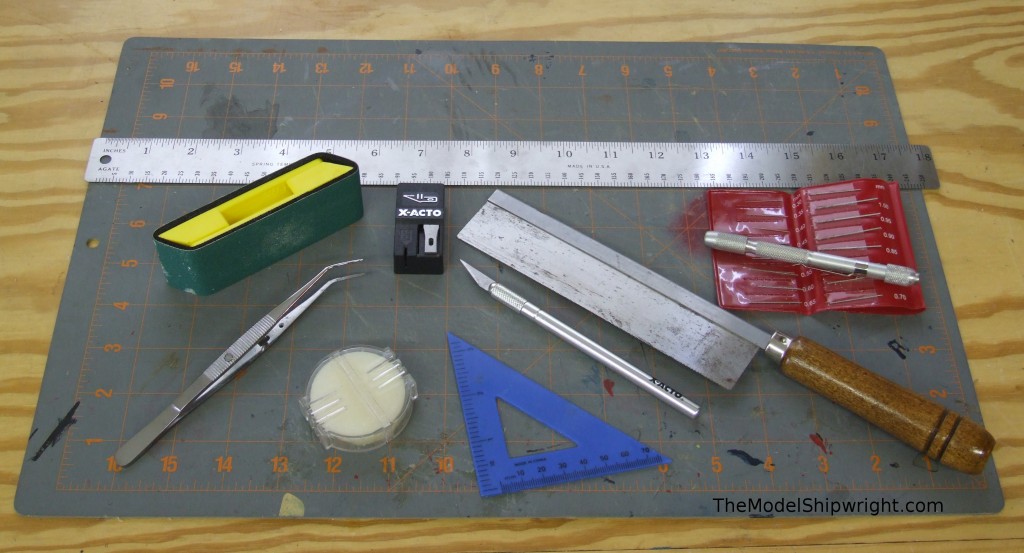 Model ship building, whether from kits or from scratch, does not require a vast array of exotic tools. In fact, most – if not all – of the tools you need can be found at your local hardware store.
Starting at the top, we have a steel ruler. Not only used for measuring, a steel ruler makes a great straight-edge for cutting long, straight lines.
Below the steel ruler, at left, we have a sanding block. This is a miniature hobby version, but a regular one will work, as well. If you don't have one, a scrap of wood with a flat side with sandpaper wrapped around it and thumb tacked to the top will fill in its place.
To the right of the sanding block is a bulk pack of replacement blades for the hobby knife below and to the right of it. A hobby knife is probably the single most used tool in model ship building, and a good supply of spare blades should be kept on hand, and changed often, so you are always using a sharp one.
Next to the hobby knife is a razor saw. Not absolutely necessary, but definitely worth the price. The blades are replaceable. A small Japanese carpentry saw will fill in for this tool, but be much more expensive.
At right is a pin vise and a collection of micro-size drill bits. The pin vise holds the drill bits for drilling tiny holes, a common task in ship model building.
Bottom left is a pair of bent-nose locking tweezers. These come in handy for holding small parts when painting or applying them to your model. The locking sort prevent a brief relaxation of your hand sending a tiny part down to the floor, where it may never be found.
To the right of the tweezers is a small block of beeswax in a plastic holder. Rigging thread is drawn across the beeswax to reduce its fuzz, as well as to help it lay more realistically.
To the right of the beeswax is a miniature carpenter's square. The smaller square you can find, the better. If you don't have one, sometimes you can cut off the corner of a die-cut parts sheet to make one.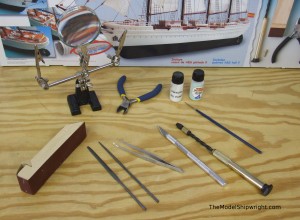 The tools are resting on a cutting pad that protects your desktop from the hobby knife.
Some entry-level ship model kits either come with tools (such as the Artesania Latina kit at right), or can be purchased with a tool set. The only differences in the set pictured here with our tools above is the addition of a couple needle files, a magnifying glass with part-holding clips, a wire cutter (handy mainly for removing cast-metal parts from a sprue), paint, and a paint brush. Don't worry about beginner tool kits with much more than this, as you will probably end up with tools you seldom use. Get the basic tools, and then add to them as the need (or perhaps I should say "opportunity"?) arises.
Check out our page on Different Types of Tweezers!
Please Support The Model Shipwright
TheModelShipwright.com is entirely user supported. If you find something of value here, please "pay it forward" and help us keep the site operating by a secure donation through PayPal ( PayPal account is not required).
Thank you for your support!