U.S. Coast Guard Cutter FIR, WLM-212
Designated a National Historic Landmark
Unaltered Cutter Represents Foundation of Modern Coast Guard Buoy Tender Fleet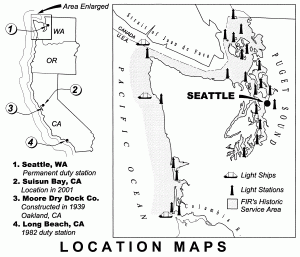 Designed a National Historic Landmark U.S.C.G. cutter FIR is the last surviving tender built under the U.S. Lighthouse Service. She was originally used to service and maintain lighthouses in the Puget Sound and along the Washington coast. The FIR remained largely unchanged, and as such "represents a largely unheralded workaday-aspect of the lighthouse service, as well as the seafaring foundation from which the modern Coast Guard's buoy tender fleet evolved."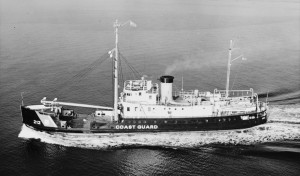 Fir was constructed by the Moore Dry Dock Company in Oakland, California. Her keel was laid on January 7, 1939, and she was launched just over three months later on March 22. She was commissioned by the U.S. Coast Guard on October 1, 1940. She was decommissioned in 1991.
Fir serviced lighthouses and other aids to navigation in Puget Sound, Strait of Juan de Fuca, and along the coast of Washington state. She supplied the lighthouses and lighships in her service area with coal, potable water, food, and other vital provisions. She also transported personnel to and from the remote locations the lighthouses and lightships were located, as well as delivered mail ad personal goods. She also serviced the unmanned acetylene buoys marking navigation channels along the northwest coast.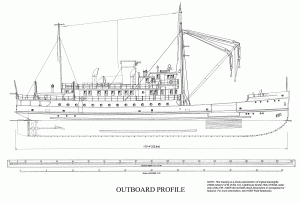 During World War II, fir was armed and painted gray. She picked up additional war dutes such as standing picket duty, towing gunnery targets, and patrolling for enemy ships along the Washington and Oregon coasts.
After the war, she returned to her previous peacetime dutes, as well as search and rescue, marine environmental protection, and law enforcement. At the time of her decommissioning, she was responsible for maintaining 138 buoys in the Strait of Juan de Fuca and Puget Sound.
The U.S. Secretary of the Interior designated Fir a National Historic Landmark on April 27, 1992. Other than being refit with new engines, Fir is essentially unaltererd from her configuration when she was commissioned.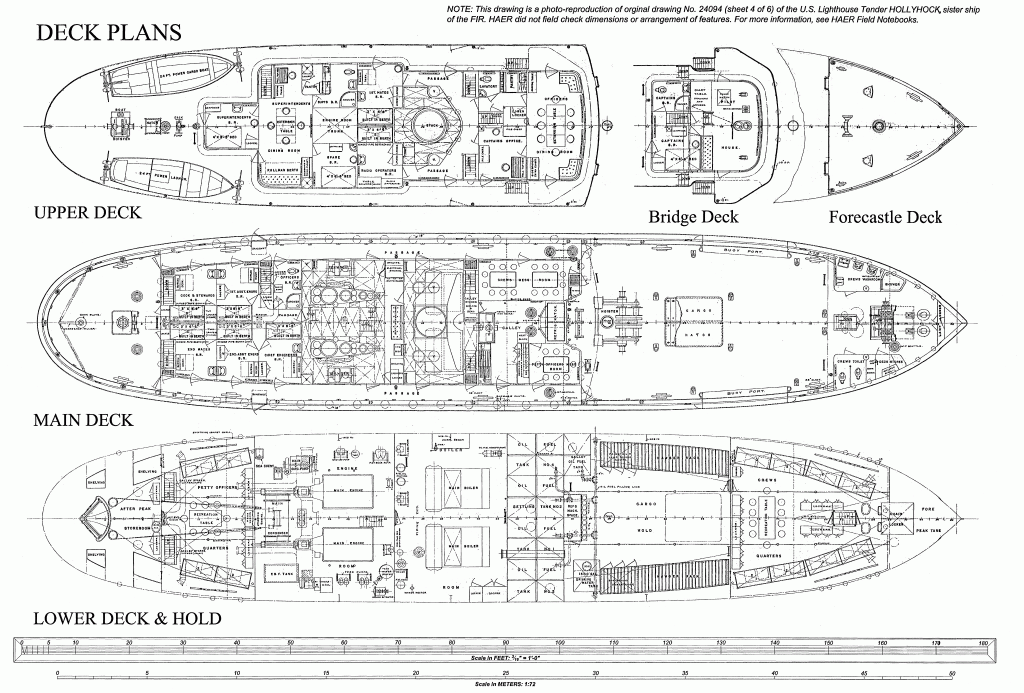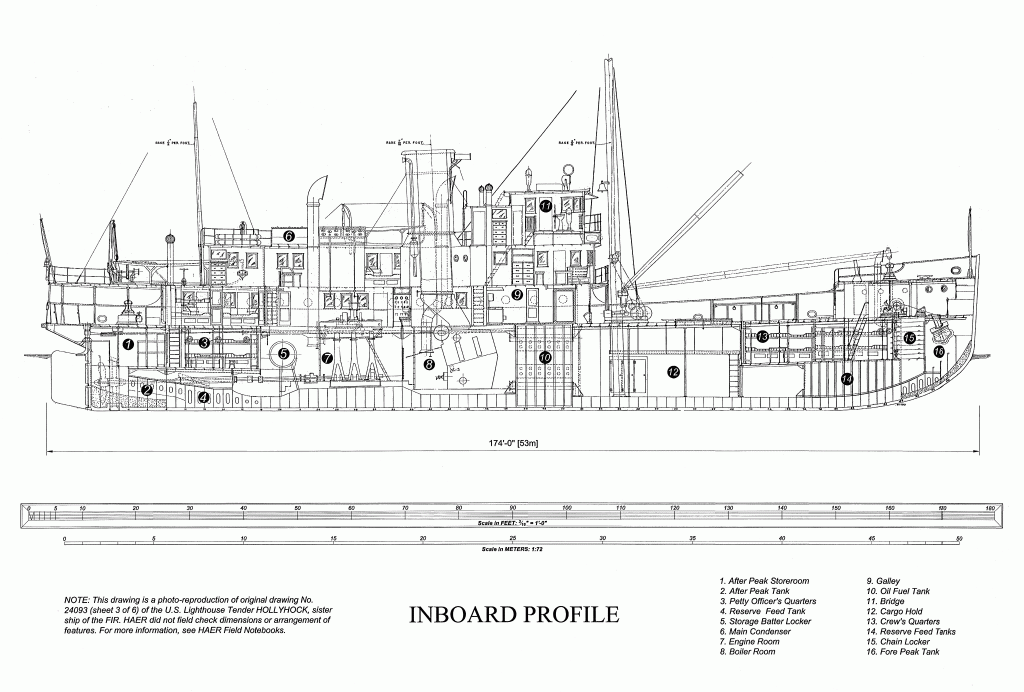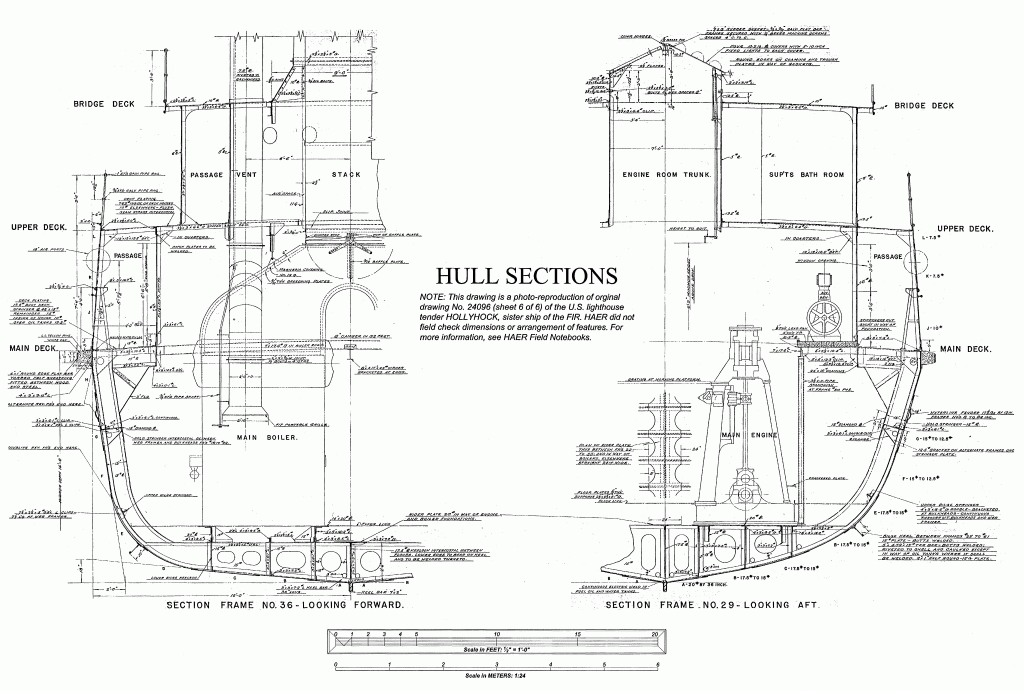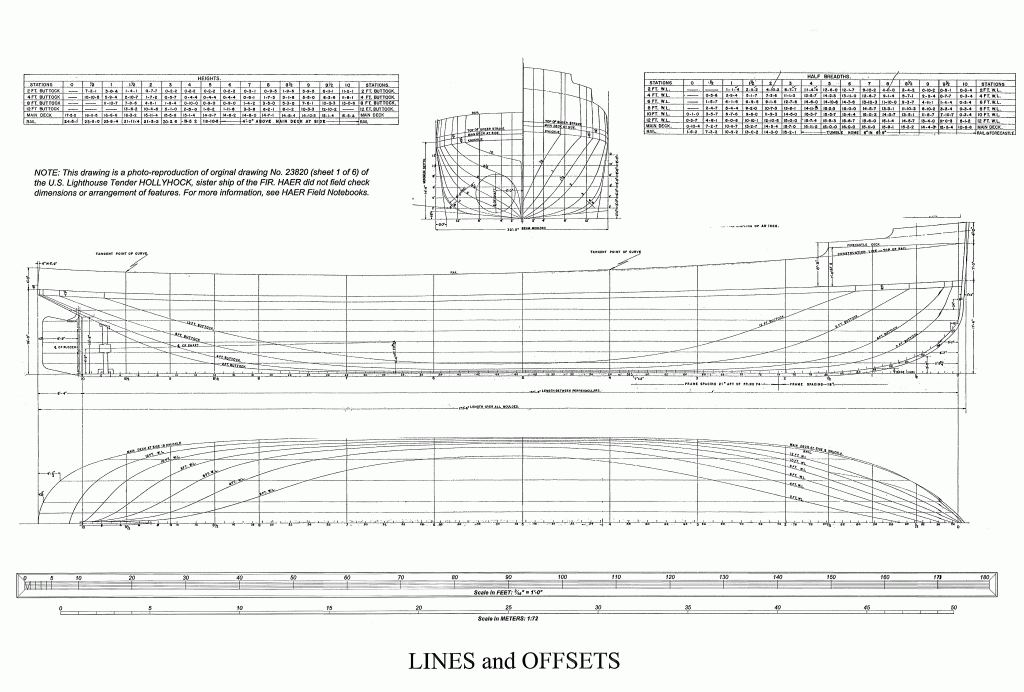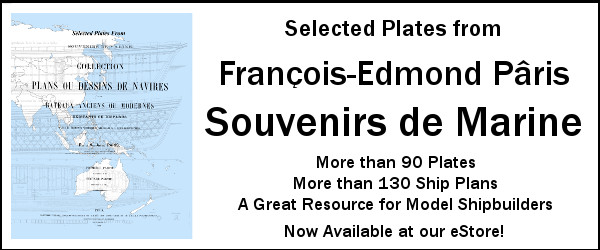 Please Support The Model Shipwright
TheModelShipwright.com is entirely user supported. If you find something of value here, please "pay it forward" and help us keep the site operating by a secure donation through PayPal ( PayPal account is not required).
Thank you for your support!
The United States Coast Guard Recording Program is part of the Historic American Engineering Record, a long-range program documenting significant engineering, industrial, and maritime sites in the U.S. The program is administered by the National Park Service, U.S. Department of Interior. The Fir recording project was sponsored in 2000 and 2001 by the United States Coast Guard. Candace Clifford served as historian, Pete Brooks served as architect and delineated the plans, and Jet Lowe produced the photographs.