U.S. Coast Guard Cutter Acushnet serves 67 year career
That began as U.S. Navy salvage vessel USS Shackle
Decommissioned in 2011, she was the only World War II vintage vessel still in Coast Guard service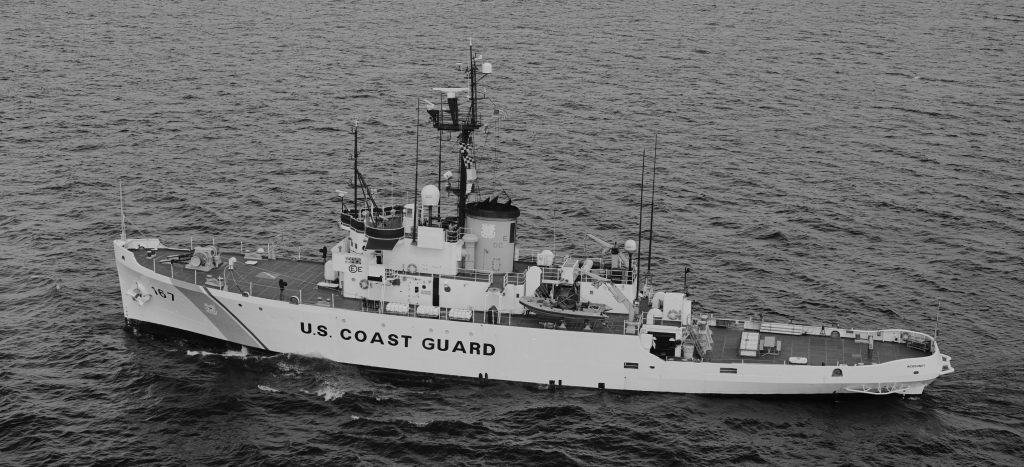 U.S. Coast Guard cutter Acushnet began service during World War II as U.S. Navy salvage ship USS Shackle (ARS-9). During her long career with the coast guard, she served as a tug, oceanographic research vessel, and medium-endurance cutter.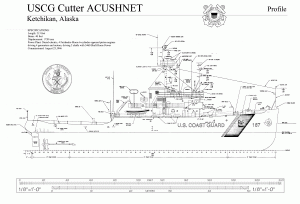 When the United States was suddenly drawn into World War II with the attack on Pearl Harbor, navy shipyards were hard-pressed to build all the new vessels that would be required for the war effort. The U.S. Navy turned to the U.S. Maritime Commission to contract many of the attack transports, oilers, and other auxiliary ships it needed, such as salvage ships. While the first task of salvage ships was to clear the damaged ships in Pearl Harbor, duties went beyond dealing with destroyed or sunken ships to any repair tasks beyond the scope of a ship's crew, such as fire-fighting or towing disabled craft.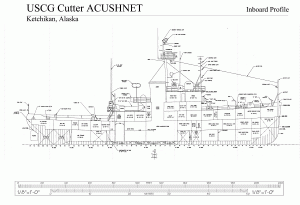 The Navy used every resource possible – both military and commercial salvage company – in the design of what would be named the Diver class salvage vessel to which Shackle/Acushnet belongs. Her keel was laid in October 1942 at the Basalt Rock Company shipyard located on the Napa River, and she was launched February 1944. This shipyard constructed all 16 Diver class salvage ships.
According to the HAER report:
The design characteristics of the Shackle were 213'6″ in overall length, a beam of 40'8″, and a limiting draft of 14′ 1″. She was steel-hulled and displaced 1,970 tons of water when fully loaded.
Her twin-screw propulsion plant (diesel-electric) created 3,000 shaft horsepower per motor for a top speed of 14.8 knots. Flank speed allowed her to run a radius of 10,000 nautical miles and 13,700 nautical miles at cruising speed. At 95 percent capacity, her fuel tanks held 95,960 gallons of diesel fuel for the main engines and auxiliary generators.
Her four eight-cylinder Cooper-Bessemer diesel engines powered four Westinghouse generators, producing 610 kilowatts of electricity to power the four Westinghouse 765-horsepower electric motors. These motors drove the two prop shafts which were stepped down through reduction gears to turn two nine-foot four-bladed propellers. Auxillary power, as fitted, included two diesel generators producing 200 kilowatts of power, and an emergency generator that produced 60 kilowatts.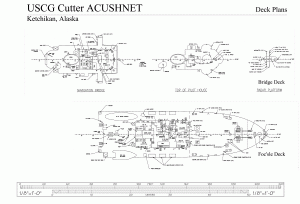 The forecastle deck was fitted with a mast and boom, an anchor windlass and a windlass used to operate the boom tackle and salvage equipment. The stern was fitted with a second mast and a towing winch drum with 2,100 feet of 2-inch steel cable that had a maximum pull rating of 40,000 pounds. Near the stern there were port and starboard capstans with a towing bit between them. A 900-foot 5 ½ inch nylon tow line was stored below deck. Four compressors provided air for the divers and four pumps could be used for a variety of salvage tasks from fire-fighting to removing water from a sunken wreck.
The Shackle was designed for a crew of 120 men: seven officers and 113 enlisted. Officer's berthing was located on the main deck; enlisted personnel berthing on the second deck. The captain, executive officer, and engineering officer had quarters below the navigation bridge, near the officers' ward room. Galleys were located on the forecastle and main decks. The chief petty officer's mess was forward of the main deck galley; enlisted mess was to port of the galley.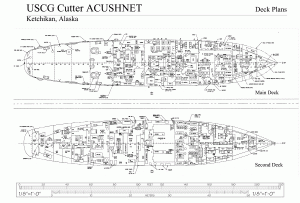 As outfitted for World War II, Shackle was armed with two twin 40-millimeter anti-aircraft guns. The Coast Guard replaced those first with three 20-millimeter guns, then later to two .50 caliber guns.
Shackle had two motor lifeboats and various rubber rafts. The Coast Guard updated these auxiliary boats to two rigid hull inflatable boats and six life rafts.
Shackle's first mission was to clear the sunken USS Macaw from the channel at Midway Island. After returning to Pearl Harbor to clear grounded ships, she went on to duty at Guam, Eniwetok, Tinian, and Saipan. Shackle took part in 44 salvage missions during the invasion of Iwo Jima, including the repair of damage caused by a shore battery to the destroyer USS Terry (DD-513). At Okinawa, Shackle helped repair 55 vessels, many damaged in kamikaze attacks. Shackle then performed minesweeping duty in the East China Sea. After the end of hostilities, Shackle worked to clear the docks at Yokosuka Naval Base. The navy decommissioned her on 29 June 1946.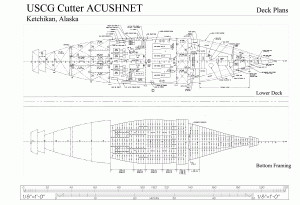 The Shackle was one of 21 vessels the U.S. Navy provided to the U.S. Coast Guard after the war. The Coast Guard commissioned Shackle as the USCGC Acushnet (WAT-167) on 23 August 1946. She was modified for search and rescue missions, and stationed at Portland, Maine. In September 1947 she deployed to fight a large fire at to Bar Harbor, Maine.
During the 1950s, Acushnet performed missions for the International Ice Patrol, formed in 1914 after the sinking of RMS Titanic. Acushnet's first major rescue operation was during a severe storm southeast of Cape Cod, Massachusetts in February 1952, when the she evacuated 18 crew members from tanker SS Fort Mercer. The Coast Gurad sent cutters Eastwind, Unimak, Yakutat and Acushnet to assist the ship, which was in danger of breaking up. The Acushnet's captain maneuvered the cutter close enough to the wreck that five men could jump onto the her low afterdeck. Pulling alongside the damaged tanker a second time rescued an additional 13 men.
In March 1960, Acushnet was dispatched to assist Coast Guard cutter General Greene and the tug M. Moran. General Greene, sent to assist M. Moran, was disabled when her towing hawser became entangled in her rudder and propeller. When Acushnet arrived, the sea was pushing the disabled General Greene toward Sandwich Beach. In her first attempt to pass a towing hawser to Greene's crew, Acushnet approached too close, and struck the Greene's bow, cutting a gash in the Acushnet's starboard hull at the engine room. In the second attempt to pass a towing line, as Acushnet drifted backwards in the heavy seas on her own anchor lines towards Greene, Acushnet struck the seafloor, landing on the Green's set anchors, the flukes of which punctured Acushnet's hull.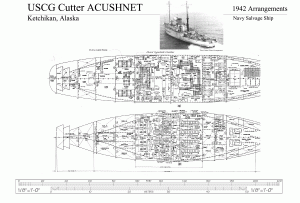 Although she failed to save the now-beached Greene, Acushnet was able to tow the disabled tug M. Moran into port. After her crew patched her holes, Acushnet set out to salvage General Greene, which lay on her starboard side 100 feet from the water at low tide. At high tide, Acushnet freed General Greene and towed her to Boston Harbor.
A court of inquiry investigating the incident not only cleared Acushnet's captain of wrongdoing, it awarded him and the executive officer the Legion of Merit for their actions. The entire crew received letters of commendation for their participation in the rescue.
On Christmas day, 1961, Acushnet was sent to assist the dredge Cartagena in another severe storm off Cape Cod, Massachusetts. A commercial tug towing Cartagena lost her towline during a North Atlantic storm mounting 75 knot winds and 30 foot seas. Acushnet rescued all ten of Cartagena's crew members.
Between July 1968 and June 1971 Acushnet – redesignated WAGO-167 and home-ported in San Diego, California – assisted the Scripps Institute of Oceanography with deployment and repair of oceanographic research buoys in the North Pacific.
At the conclusion of that assignment, the Coast Guard moved Acushnet to Gulfport, Mississippi where she worked with the National Atmospheric and Aeronautical Administration on the National Data Buoy Project, placing instrument data buoys in the Gulf of Mexico. These 100-ton buoys were anchored in depths up to 12,000 feet and relayed a variety of oceanographic data via radio to land-based research stations.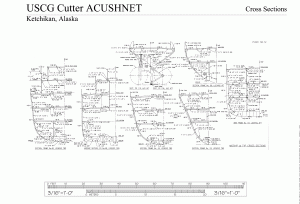 In 1973, the Acushnet fought two major fires. The first was a fire on board Key Largo , moored at the town of Phoenix, Louisiana, south of New Orleans. The second was a fire caused by a collision between the ore ship Baune and the tanker Key Trader. Acushnet was awarded a Coast Guard Unit Commendation for her efforts in this action.
In 1978, Acushnet participated in the Global Weather Experiment, a scientific experiment in which 140 nations participated to collect worldwide weather data. Acushnet covered 18,000nautical miles in 82 days, making stops in Peru and New Zealand during the project.
During the 1980s, the Acushnet patrolled the Gulf of Mexico and the Caribbean performing refugee and drug interdiction missions. During her eight-year stay in Gulfport, Mississippi, the Acushnet prevented more than 200 refugees from Cuba and Haiti from entering into the United States. In 1984 alone, she seized more than 100 tons of marijuana aboard 10 different vessels.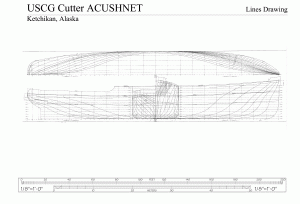 During the 1980 Mariel Boatlift. Acushnet saved thousands of refugees in danger of drowning in overcrowded boats and rafts. During this operation, she was nearly forced into Cuban territorial waters by gunboats, saved only by interdiction of the U.S. Navy.
In 1984, Acushnet underwent a more than $3 million upgrade of her 1940s technology during a four-month overhaul in the Bergeron Shipyard in Braithwaite, Louisiana. Her main engines were replaced with Fairbanks-Morse diesels and her steering gear was replaced with an electric-hydraulic steering ram. She also gained a new electronics package allowing her abilities comparable to the new 270-foot medium endurance cutters.
In 1991, based in Eureka, California, Acushnet made her last drug seizure when her crew recovered more than half a ton of hashish after a standoff that lead to the scuttling and burning of the sailing vessel Malekula. Unfortunately for the crew of Malekula, the drugs she carried floated to the surface as she sank.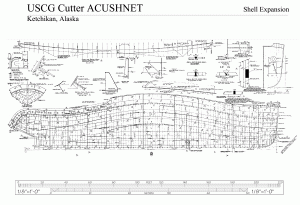 During her law enforcement duties Acushnet seized more than a million pounds of illegal drugs valued at more than $1.5 billion.
In 1998, Acushnet was moved to Ketchikan, Alaska, where she proved a stable platform on extended tours during inclement weather common to the Bering Sea. She performed law enforcement, Homeland Security, search and rescue, and environmental protection missions.
On 23 February 2007, with the decommissioning of USCGC Storis, Acushnet became the oldest commissioned cutter in the fleet, and earned the formal title of "Queen Of The Fleet." Scheduled for decommissioning in late 2008, Acushnet gained a reprieve from retirement, and continued to conduct patrols in Alaska until 2011, when she was removed from active service.
The Acushnet was recorded as part of the Historic American Engineering Record (HAER), a long-range program to document historically significant engineering and industrial works in the United States. The Heritage Documentation Programs of the National Park Service, U.S. Department of the Interior, administers the HAER program.
The project was prepared under the direction of the HAER Maritime Program Coordinator, Todd Croteau, who also generated the vessel drawings. HAER photographer Jet Lowe created large format photographs. Brian Clayton authored the HAER report from which this text is based.
Please Support The Model Shipwright
TheModelShipwright.com is entirely user supported. If you find something of value here, please "pay it forward" and help us keep the site operating by a secure donation through PayPal ( PayPal account is not required).
Thank you for your support!