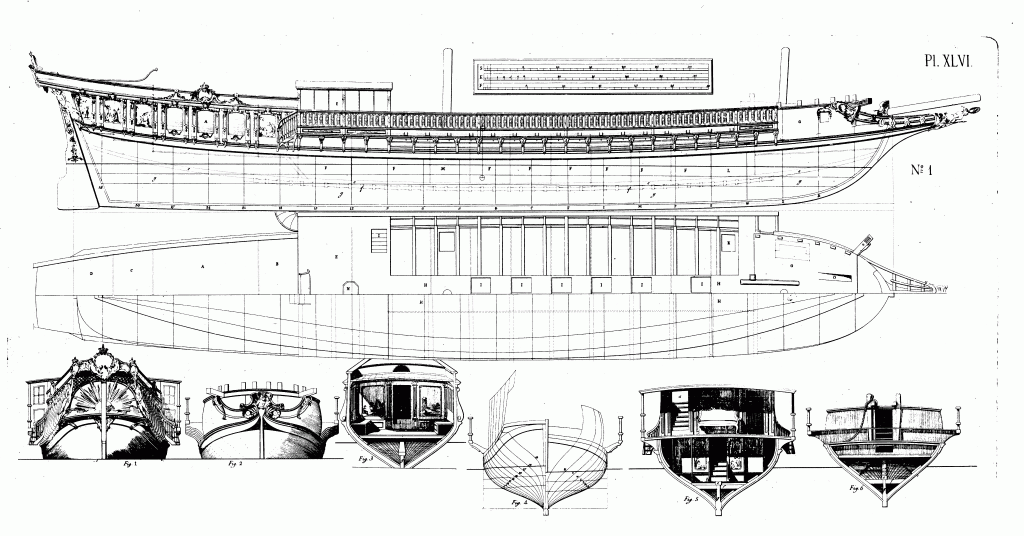 Another oar-powered vessel recorded in Fredrik Henrik af Chapman's Architectura Navalis Mercatoria is this Galley of 16 pairs of oars, with two men on every oar, rigged with Lateen sails. Her length stem to stern is 114′ 6″; Beam is  17'0″; Draft is 6'3″.
Chapman's description reads:
une Gallaire de 16 couples d'avirons, a Deux hommes sur chaque aviron, gréée avec des voiles Latines

Description des arrangements interieurs de la Gallaire.
A. La grande Salle, ou la Salle d'assamblé. B. antichambre. C. chambre a coucher. D. garde-robe. E. la salle a manger. F. des chambres, bu logements. G. la cuisine a deux feux.: H. la coursive. I. des ecoutilles pur où l'on descend aux logements. K. ecoutille de la fosse aux cables. L. la fosse aux cables. M. logements pour le officiers mariniers. N. cappe elevée, vi tré par les cotés pour donner dujour en bas. O. passage pour les cables allants aux ecubiers.
Fig. 1. Represente la gallaire vues de l'arrier.
Fig. 2. Represente l'avant de la gallaire.
Fig. 3. une coupe à l'endroit où est le gabarit (21) representante l'interier de la grande salle.
Fig. 4. represente les gabarits.
Fig. 5. une coupe a l'endroit du gabarit (12). a escalier pour monter sur la dunette. b. porte par où l'on entre pour descendre a la grande talle. c. un apartement a deux lits.
Fig. 6. une coupe a l'endroit du gabarit (w), d entré a la cuisine. e la carlingue. f. des traversins pour lier les membres des deux cotés de la gallaire. g. des maciments, pour empecher en quelque façon la gallaire a ne point s'arquer.
Rough translation:
a Galley of 16 pairs of oars, with two men on every oar, rigged with Lateen sails.
Description of interior arrangements of the Galley: A.The great cabin, or the cabin of assembly. B. antechamber. C. Sleeping quarters. D. wardrobe. E. The dining room. F. the Saloon. G. the galley (kitchen) with two hearths. The gangway. I. stariways where one descends to the crew berths. K. ecoutille of the pit to the cables. L. Rope locker. M. lodgings for the navy officers. N. shaft to allow daylight below decks. O. passage for the anchor cables to the hawse pipes.
Fig. 1. View of the stern.
Fig. 2. View of the bow.
Fig. 3. Section showing the interier of the great cabin.
Fig. 4. Body plan.
Fig. 5. Section through station M. features: a. Stairway up to the poop deck. b. Stairway descending to: c. Crew quarters with two berths.
Fig. 6. Section through station W. d. Entrance to the kitchen (galley). e. the keelson rider. f. Floors supporting the frames. g. Keelson and deadwood that provide resistance to hull to prevent hogging.
Please Support The Model Shipwright
TheModelShipwright.com is entirely user supported. If you find something of value here, please "pay it forward" and help us keep the site operating by a secure donation through PayPal ( PayPal account is not required).
Thank you for your support!