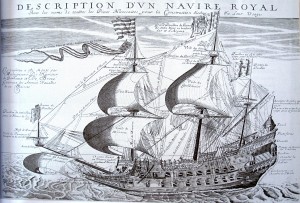 Ships plans for La Couronne, a 17th Century French first rate warship come from François-Edmond Pâris: Souvenirs de marine conservés, ou Collection de plans de navires de guerre et de commerce et de bateaux divers de tous les pays tracés par les constructeurs ou marins … recueillis et publiés par l'amiral Pâris.
La Couronne (French for "The Crown") was commissioned into the French Navy in 1636. She was a war galleon built by the French as part of the effort by Cardinal-duc de Richelieu et de Fronsac, King Louis XIII's chief minister, to ensure the French Navy was dominant on the seas.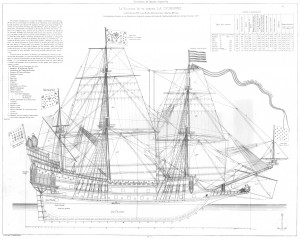 The ship was constructed under the direction of master carpenter Charles Morieur at La Roche Bernard (France had contracted out the construction of some previous ships to the Dutch so this was notable). One of the most advanced ships of her time, Couronne bore 68 heavy guns, eight firing from the bow and eight from the stern, an unusual feature at the time.
The Couronne was involved in the Battle of Guetaria in 1638, and an expedition to Spain in 1639 under Henri de Sourdis.
As advanced as she was upon commissioning, her career was short. She was disarmed in 1641 and scrapped between 1643-1645. Her lines were recorded in Hydrographie by military chaplain Georges Fournier in 1667.
The French language wikipedia notes her dimensions thus:
The hull of the ship is 167 feet long (54.2 meters) overall, or 200 feet from the flag stick to the spur [10-meter bowsprit], it is 46 feet wide at midship (14.9 meters) with a draft of 17 feet (5.5 meters). [Her] forms are inherited [from previous] caraques and galleons. The captain's room is 30 feet by 26, is larger than the king's chamber at Versailles at the same time.

[She is similar to ships] built in England (including the Prince Royal, the first three-decker launched in 1610 ) and the United Provinces (like the St. Louis purchased in 1626 by Richelieu for the King's navy), it is the contemporary [of] Vasa (Swedish but Dutch design, launched in 1627) and the Sovereign of the Seas (English, launched in 1637 ).

[She is built of] oak from the forests of Britain, [while] the guns, the yards, and some of the ropes of hemp come from Sweden, thanks to the Franco-Swedish alliance signed on 13 January 1631.

The armament is theoretically 72 guns of bronze:
32 18-pounder long guns on the lower battery;
24 9-pounder long guns on the upper battery;
16 6-pounder long guns on the castles.
Ship's crew: 643.
Please Support The Model Shipwright
TheModelShipwright.com is entirely user supported. If you find something of value here, please "pay it forward" and help us keep the site operating by a secure donation through PayPal ( PayPal account is not required).
Thank you for your support!